Clarity Is The Key To Unlimited Firm Growth
Double your firm's revenue, and add at least $2MM in 18 months.
Work With Me
Law Firms: I double revenue for business law firms, adding at least $2MM in 18 months – without increased advertising or partner billings.
Individual Partners: I also work on a limited basis with individual partners to build and maintain their 7-figure practices, in less than 5 hours a week.
I work with managing and equity partners who want to create an 8-figure business law firm or grow a 7-figure practice.
Clarity is the key to unlimited growth. While each firm and partner is unique, they all have growth opportunities in key areas. And sometimes it takes an outside perspective to fully expand each key area. One of my favorite expressions is: "You can't read the label from inside the bottle." I bring the outside perspective, you bring the secret sauce recipe; and together we create 8-figure law firms and 7-figure practices.
I've developed a framework for accelerating growth for firms with 8-figure revenue goals. We'll: ➊ develop a custom roadmap for your firm growth; ➋ accelerate cash flow to fund future growth; ➌ increase capacity to handle the influx of new work and fully capturing client billable work – without increasing partner billables; ➍ add new clients, attract partners, and monetize existing relationships; and ➎ expand profits by maximizing all revenue opportunities and creating stability.
HOW IT WORKS FOR PARTNERS
When you're clear on "why" and "how," it's easy to experience unlimited practice growth. We'll work together to create a practice growth strategy that creates momentum and lets you sustain it – because it's made for you.
I currently accept 1-3 new clients per quarter who want to lead 8-figure law firms. And it has to be a great fit for both of us. I'm on a mission to help lawyers make the law fully work for them!
8-Figure Law Firm Growth Accelerator
INCREASE CASH FLOW AND CAPACITY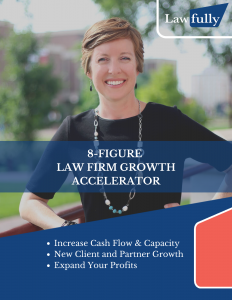 WHAT IT IS: You can't grow your firm without cash and you need to do the work when it starts coming in.  In this stage, we'll develop your 8-Figure Law Firm Roadmap and increase your firm cash flow to fund future growth while making sure the firm can handle that extra work. 
HOW IT WORKS: This foundational works happens in the first 3-4 months we're working together. Efficiency is paramount (I get that as a former biller, myself).  You'll know how your firm is growing, where to focus, and what to do to maximize cash flow. You'll also be able to handle the influx of work – without increasing partner billings or hiring a ton of people.
EXPECTED OUTCOME: Typical clients will build the foundation for an infusion of $750,000 – $2.5MM in firm revenue.  $100k is an immediate – and modest – goal. And you'll deepen existing relationships with clients, off-load some of your work, and get breathing room as you increase capacity.
NEW CLIENT AND PARTNER GROWTH
WHAT IT IS: We'll ramp up growth together, by adding new clients and attracting partners with established books. It won't be stressful because you'll play to your strengths and see results.  You'll also effortlessly monetize existing relationships that have been dormant.
HOW IT WORKS: These pieces come together in months 4-8.  By now, you've hit ROI+ and are accelerating toward your 8-figure law firm goal. Your success and pace for adding new clients will increase significantly, you'll monetize your network, and you'll attract partners to your firm who add value to your firm's clients and culture. 
EXPECTED OUTCOME: Typical clients see $1.5-4MM in revenue beginning in this stage.  Everyone is engaged in firm growth.  This is where dreams get so much closer to reality and it's… just plain exciting!
Lawfully Client Success Map
EXPAND PROFITS
WHAT IT IS: We'll identify and maximize all revenue opportunities.  And ensure your firm's internal growth engine is helping propel everyone forward.
HOW IT WORKS: This stage typically begins in months 13-18.  It positions the firm to hit the 8-figure mark and it's all about increasing firm engagement and creating an internal revenue motor to fuel growth for years to come.  All revenue opportunities are maximized and covered.
EXPECTED OUTCOME: $250,000 to $1MM+ in revenue is conservative here.  You're firm is now positioned to keep growing beyond 8-figures – and you're not feeling the grind while doing it.  If you're a business owner, you have a drive to create and serve – and this is where you'll really feel your impact!
Proactive Partner Growth
BUILDING AND MAINTAINING 7-FIGURE PRACTICES
WHAT IT IS: I help partners 2x, 3x or 10x their books of business to build and maintain a 7-figure practice in less than 5 hours a week.
HOW IT WORKS: By knowing your direction, creating a crystal clear action plan, upgrading your skills, optimizing your environments, and mastering your psychology, it's easy to experience unlimited practice growth. We'll dive into what drives you and create a practice growth strategy that maintains momentum – because it's specifically geared to you:
Be clear on what you want.
Know your motivators and what's slowing you down.
Identify what sets you apart.
Find your ideal clients.
Get the meeting and sell without feeling sleazy.
EXPECTED OUTCOME: Being energized about your 7-figure practice. And restoring balance by knowing where and how to spend your time efficiently and effectively to build and maintain your practice.
CAN WE WORK TOGETHER? I only work with up to 5 individual partners a year. It's not the main revenue driver for my business, but I do it because I love it. I'm on a mission to help lawyers make the law fully work for them!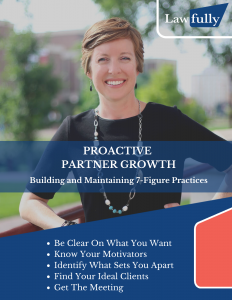 30-Day Unconditional Happiness Guarantee
After the first 30 days, if you don't see that this is exactly what you need to achieve your growth goals, and/or if you don't absolutely love the work we're doing for any reason, you can have a full refund of every penny.